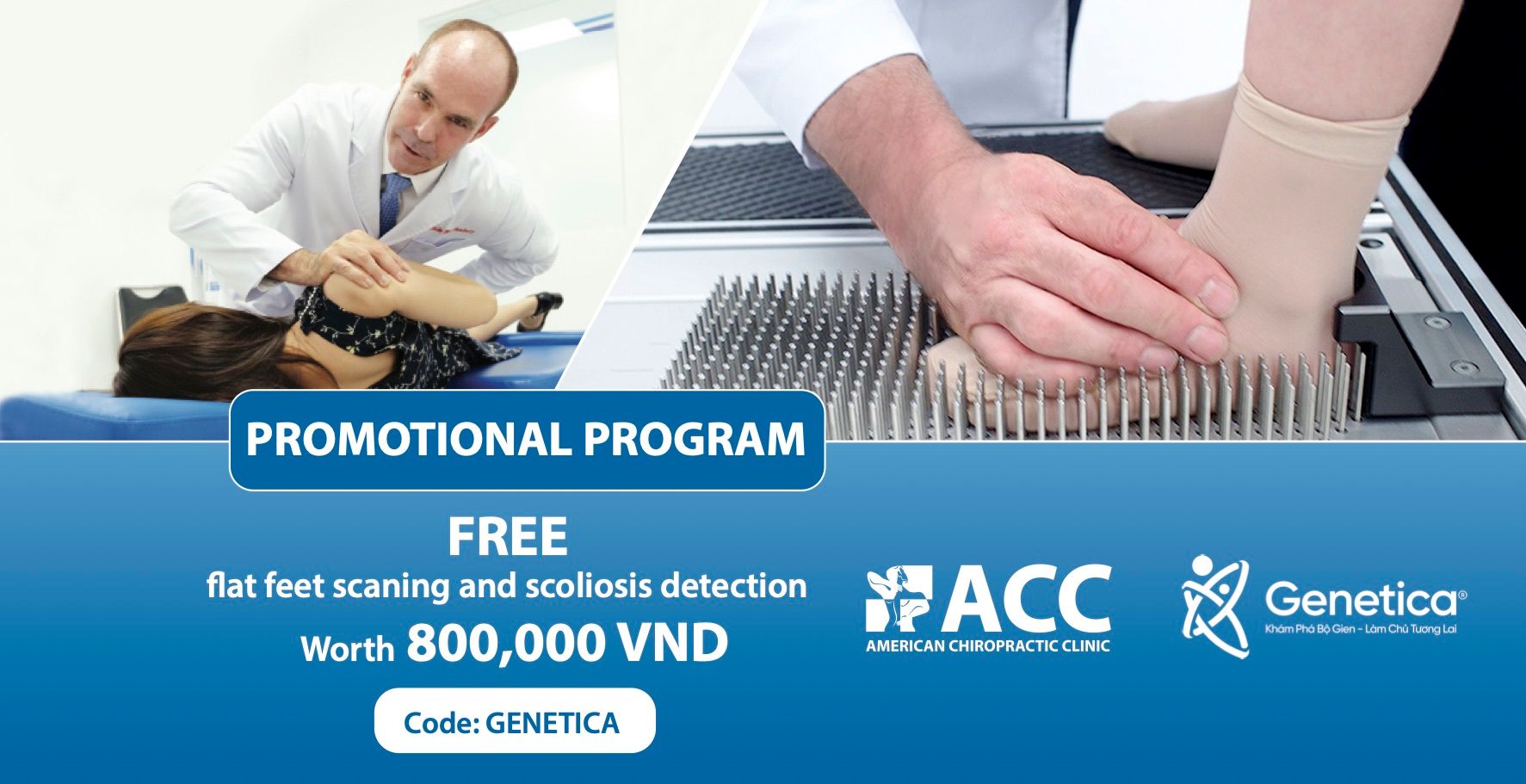 Established in 2006, the American Chiropractic Clinic (ACC) is the first chiropractic clinic opened and registered in 2006 under the Ministry of Health, Vietnam. Committed to the quality of treatment, we have consistently strived to be the pioneer in applying state-of-the-art technology from all over the world in order to provide patients with the optimal solution. We have been trusted by thousands of patients in Vietnam, and have a long-term commitment to provide excellent chiropractic care to Vietnamese and Expatriates.
1. Offer details:
Free flat feet screening and scoliosis detection for Genetica's customers at American Chiropractic Clinic (ACC)
2. Terms and conditions:
For new patients only with physiotherapists and specialists
Not exchangeable for cash
This preferential pricing program cannot combine with other promotions
Each customer is allowed to use 01 (one) voucher only during the promotion period
Conditions to apply: Presenting gift voucher when coming to the clinic
3. Location:
American Chiropractic Clinic (ACC) system in Hanoi, Ho Chi Minh City and Da Nang.
Ho Chi Minh City:
99 Nguyen Du, District 1, (028) 3939 3930
Hotline: +84 946 740 066
133 Nguyen Trai, District 5, (028) 3838 3900
Hotline: +84 941 970 909
Hanoi:
44 Nguyen Du, Hai Ba Trung District, (024) 3265 6888
Hotline: +84 965 688 828
Danang:
112–116, 2 tháng 9 Street, Hai Chau District, (0236) 387 8880
Hotline: +84 911 660 252
4. About us:
ACC is the 'state of the art' Chiropractic, Physiotherapy Rehabilitation and Foot Care center, which provides the highest level of quality and facility, exceeding that of most similar clinics in South-east Asia. We have provided very successful treatment for thousands of patients suffering from disc syndrome, spinal degeneration, knee pains, foot problems and stroke rehabilitation.
ACC also own and operate the only medical grade foot orthotics lab in Vietnam. We specialize in the treatment of many foot disorders, such as foot pain, heel spurs, plantar fasciitis, flat feet in children and adults, diabetic foot as well as Achilles Tendonitis.
Our doctors from the United States, Canada, France, New Zealand and South Korea are well qualified, experienced, dedicated to the health of patients. We are among one of a few high quality medical establishments in Vietnam that regularly attracts overseas patients from Asian and Western countries.